NDIS PHYSIOTHERAPY SERVICES
We are the leading provider of NDIS physiotherapy services to the Sutherland Shire and St. George areas. We designed a beautiful, accessible clinic with open space and excellent equipment to enable our therapy team to provide the highest level of care for all our patients. If you are looking for a local provider please feel free to come and see our facilities anytime to help decide if we can help you achieve you NDIS plan goals. Call us to book in and start working with the team to achieve your goals.
WHAT IS NDIS PHYSIOTHERAPY?
The National Disability Insurance Scheme- also known as NDIS physiotherapy- is a system that revolutionized patient care. It's a new way of providing individual support for people with disabilities. As well as that NDIS cares for the family and carer of the patient. As the name suggests, this is insurance which gives the patient peace of mind and the ability to freely get the care they need.
Aevum Physiotherapy is a registered NDIS physiotherapy provider that gives you the opportunity to get the care you need without having to worry about anything but feeling better. The NDIS physiotherapy system has allowed many to improve their lives in ways they otherwise wouldn't be able to.
If you're just starting your NDIS physiotherapy journey, let us help you. When applying for NDIS, you have to pay attention to more than just one factor. Our team would be more than happy to help you along the way.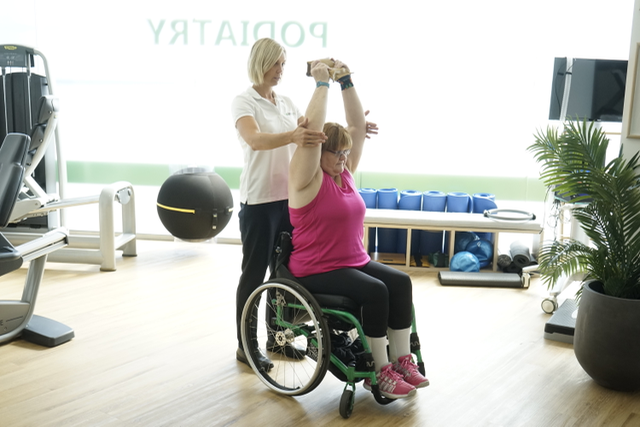 OUR NDIS SERVICES
EXERCISE PHYSIOLOGY

PODIATRY

PSYCHOLOGY

SPEECH PATHOLOGY

HYDROTHERAPY
ACCESSIBLE EQUIPMENT
We've worked hard to make our space both welcoming and aesthetically pleasing. As well as there being a lot of space for you to get the care you deserve. We've paid special attention to the equipment in our facility. Everything we own is accessible and available to our clients as we hope to give you the best possible care we can.
Pared with our exceptional and professional team, our equipment brings our services to a whole other level. Not only will our caring experts make sure you're safe and comfortable, but you'll also get to use the highest-quality equipment on the market.
PROFESSIONAL STAFF
At Aevum we have you covered from head to toe with Physiotherapists, Exercise Physiologist, Podiatry, Psychology, Speech pathology and a Dietitian. Our team is exceptionally trained and all staff members are registered NDIS service providers within the Sutherland Shire.
At Aevum, we realize that no team member can provide quality NDIS physiotherapy services on their own. That's why the team work together in order to provide the best service possible. This way, we also give each patient the desired results as the multidisciplinary team approach has proven to be the most effective in our years of experience.
After all, parts of the human body all work together and affect each other. As the best NDIS physiotherapy providers around, we realize and recognize how complex the human body is. This is the exact reason our team works together. One expert will have insight into something another one doesn't. This way, we make sure we're not missing anything and that you're completely cared for.

CONVENIENT PARKING
We are located on the ground floor and have a huge car parking area including accessible parking directly at the main entrance to the rear of the building. The car park is accessed via Bath Road or directly off the Princes highway. We understand the importance of being able to access your services conveniently and have done our best to make this as easy as possible. Our parking is clearly marked so you won't have any problems reaching us.
If it's more convenient for you, we can even plan to meet you at the entrance in case you are being dropped off. As you can see, our care for you starts as soon as you opt for us as your NDIS physiotherapy provider. It doesn't matter if you haven't even entered the building yet, you're our responsibility and we'll do our best to keep you comfortable as soon as you decide to be our client.

FREE DISCOVERY SESSION
It's not always easy setting a budget for NDIS physiotherapy. As well as that, we understand that putting your money into a facility you haven't seen before is not a smart financial decision This is why we offer a free discovery session. This session allows you to come in and have a look around the facility and meet with our team.
You'll meet the experts that will be responsible for giving you the NDSI physiotherapy care you need, making you more relaxed and confident about starting your sessions. We know that letting strangers take care of you is in no way comfortable, which is exactly why we offer the free discovery session. As well as meeting our experts, you'll get to discuss treatment options. This is all done without you committing to us as your service provider, allowing you to think about your decision and do what's best for you.
Of course, it is with confidence that we can say it's likely you'll enjoy the company of our caring professionals and that you'll find our facility up to standard.
Our services are generally covered under the Health & Well-being or Improved daily Living categories.
To book your free Discovery Session, simply email or call us any time.
ANTI-GRAVITY TREADMILL
As one of the best NDIS physiotherapy providers, we're proud to say we invest in our equipment and facility. From all of the pieces of equipment in our facility, we're most proud of the anti-gravity treadmill. It's a great addition to the space and we're aware that not all NDIS physiotherapy providers can work with one. That's why we consider ourselves fortunate.
The AlterG Anti-gravity treadmill allows patients to walk or run. The patient is completely stable and supported by the treadmill. This revolutionizes patient care and gives people the ability to do things they thought were only possible in their dreams.
There's hope for all of our patients, regardless of how light or heavy you might be. The anti-gravity treadmill allows us to reduce your body weight to whatever we need to. This way, you're able to walk or run again without any obstacles in the way, and without your body type and weight being any sort of issue. This is extremely useful for correcting gait patterns and strengthening your legs.
The anti-gravity treadmill has proven to be excellent for post stroke rehabilitation, Multiple sclerosis, Cerebral palsy, Spina bifida, Spinal chord injury, acquired brain injury and any number of other suitable conditions.

YEARS OF EXPERIENCE
As well as our team of experts and state-of-the-art equipment in our hands, we also have years of experience. NDIS physiotherapy is no easy task to master, but because we've been in business for so long, you can be sure that we know what we're doing.
Even though this is a relatively new insurance scheme, we keep up with the advancements in our field, meaning that we've prepared our team for the challenge as soon as we heard about it. Each and every patient is unique and special, but we're experienced in dealing with a range of disabilities, allowing us to asses and treat your condition on a much deeper and more effective level.